€12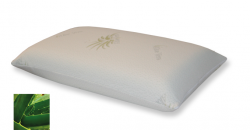 This Aloe Vera Pillow case is treated with Aloe vera micro extracts which have a de-stressing effect and provide the many beneficial health benefits of Aloe Vera providing a pleasant sleep.
Aloe vera contains healing effects as it is one of nature's most generous gifts, The Aloe Vera pillow case is a perfect addition to any pillow as it protects againt allergies and dust mites.
This pillow case is designed to soothe and heal skin by releasing aloe vera extract through the pillowcase with tiny breatheable microholes. The material gives a soft feeling and provides a soothing and calming effect when laying on the pillow.
Certifications
Properties