All our Products are certified as Class 1 Medical Devices by the Health Authorities making these products the most beneficial sleep products on the market. Each mattress follows a rigorous testing similar to the testing medicines are put through, ensuring the final product is handcrafted to perfection.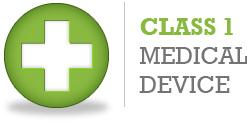 Our Mattresses have been sold for years and over time we have strived to provide the best mattress money can buy. Working with spinal physiotherapists and university professors at leading hospitals and universities, we have designed the right mattresses for our customers and have proudly achieved the recognition our mattresses truly deserve: certification that our mattresses are recognized as Class 1 Medical Devices for the medicinal properties they contain. All our memory foam mattresses offer pressure relieving support, treat bad circulation problems, are anti allergic and offer comfort and pain relief.
Our mattresses' unique ergonomic features ensure you not only get a great night sleep but you will wake up feeling refreshed every single morning.
Take for example the carbon yarns knitted into our mattress covers, these help remove the electrostatic charges that accumulate in our body. When you touch a car or any metal and receive a small shock, that is actually You shocking the car. It is the result of a build up of electricity in our bodies and our mattresses help remove this. Many of our customers have confirmed what we've known for quite some time, their lives have become so much better, waking up feeling more refreshed and living a better, fuller life.
Relief of minor muscle and joint pain, arthritis, stiffness, and muscle spasms are just a few of the benefits of our bedding products. Our mattresses also promote muscle relaxation and an increase in local blood circulation.
ARTHRITIS & FIBROMYALGIA
People suffering from arthritis and fibromyalgia find that soft mattresses that contain a generous layer of Memory foam are very beneficial and can lead to a more comfortable night's sleep. Plush mattresses matched with good support lift the body, taking pressure off the joints and relieving pressure points. Taking the weight and strain off of joints can lessen arthritic pain.
BACK PAIN
Back pain is not as black and white as many think. The widely held theory that people experiencing back pain need a very firm mattress is not universally true. In fact, the type of mattress you need will depend greatly on the cause, location and type of pain you are experiencing.
First rule for back pain sufferers looking for a new bed: do not self-diagnose. Speak to your doctor to determine the cause of your discomfort and the best solution to remedy it.
In our experience our Five and Cool Mattress have been the go-to mattresses for people with Back pain. For those who do require a very firm mattress, our Three mattress is very firm and supportive with very little give.
SENSITIVITIES
People with sensitivities have found that chemical free mattresses can provide much needed relief and allow for a full and restful night's sleep. Our mattresses contain no harmful chemicals. Natural oils have susbstituted petro chemicals, whilst water has replaced harmful toxic solvents usually used to clean foams.
We do not use chemicals in our covers and the glue used in bonding foams together, we only use GREENGUARD Certified adhesives by SIMALFA in our products. These are solvent-free, Gold Certified water-based adhesives.
Our foams are Oeko Tex 100 Class 1 certified. This is Oeko Tex's strictest certification available - classified safe for babies.
Our Latex mattress meets EuroLatex Eco-Standards. The EuroLatex ECO-Standard is a standard for quality. The TFI (Deutsches Teppich-Forschungs Institut in Aachen) in Germany, tests for the maximum acceptable limits for substances that are considered harmful to health.
See our beautiful and healthy range of mattresses here.