From €629
Sleep in perfect balance with the Advance. More than just an adjustable base, the Advance Adjustable bed offers exceptional individualized comfort through expert design. Superior form and function for sound sleep.
Pairs beautifully with a Memory Foam Mattress or a Latex Mattress.
It can be bought for stand alone use or inserted into your existing bed.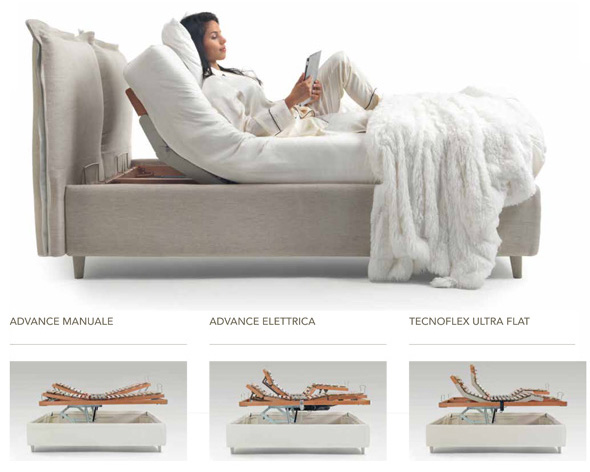 Adjustable bed base with specially contoured shoulder and hip comfort zone

Back, foot and head rests are each electrically adjustable in a smooth, continual motion. Electrically adjustable knee support mirrors natural flexed position, permitting legs to be elevated up to 7.87"/20 cm

Features noiseless motors with three types of movement, totally insulated for safety and shielded against electromagnetic fields. This adjustable bed base includes a battery to return the bed to the horizontal position in case of power failure.

Double elastic multi-laminated shock absorbing slats, held by 30 mounts flexing 3-dimensional

Adjustable bed with adjustable center reinforcement according to the user's weight, size and body type

Adjustable bed includes a corded control. Wireless remote control also available

Upper body elevation options help alleviate sleep apnea, acid reflux, snoring

Elevate your upper body to help alleviate health problems such as sleep apnea, heartburn, acid reflux or gastroesophageal reflux disease (GERD)

Be comfortable in any position while watching TV, reading a book or even working on your laptop
Comfort
The Advance Adjustable Bed has a Contoured shoulder and hip zone automatically adjusts to you for side sleeping. The unique double curved slats offer additional ergonomic support for head and feet while the quiet and powerful German engineered motor elevates your body to your desired position.
Function
Contoured slats at shoulder and hip area provide unparalleled comfort. The height and stiffness of the slats in the lumbar region can also be adjusted thanks to the addition of manual sliding stiffness regulators that help de-stress your muscles.
Quality
Frame and slats are made from high quality beech wood whilst the slats have been ergonomically designed with contours at the shoulder and hip area. Rubberised corners offer shock absorbtion whilst also ensuring you do not get scratched if mistakenly hitting the side of the bed. The motor is German made OKIN, a leader in motorised bed motors used worldwide by all leading bedding companies.
The Advance is designed to meet the highest quality standards and is available in Fixed, Manually Adjustable and Motorised. Visit our shop and try our Adjustable beds for yourself.
Available in standard sizes and custom sizes.
Certifications
Properties