For Storage Beds, Flat Base beds and Boats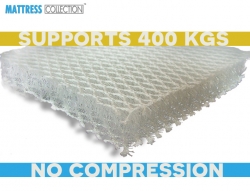 A special type of fabric that provides air to the bottom of a mattress. Especially good for Storage Beds, Flat base beds and boats.
Up till now, anyone having a storage bed or a flat base bed was put off purchasing a memory foam mattress or a latex mattress due to the fact that these mattresses need air circulation to inhibit the build-up of condensation and mould. With the advent of the Airflow Layer, the risk of consdensation build up or mould has been lessed drastically as the special airflow layer provides an air layer under the mattress.
Mattresses need to breathe. Our mattresses comes with special mattress covers that incorporate air circulation technology including the 3D Space bands on the sides of the mattress, forcing air in and out every time there is movement. Underneath the mattress is just as important. Having a lack of air circulation on the underneath of a mattress can lead to a build-up in condensation that can result in mould spores.
Airflow is a specialist warped knitted fabric, highly breathable and cushioned. Unlike regular 2D fabrics, Airflow uses two separate fabrics, joined by microfilament yarn, to create a breathable, 3D "microclimate" between layers. Heat and vapor leave the body, moving to this highly permeable layer. The cool air provided by this natural ventilation pushes out the heat and vapor, providing temperature control and maximum air circulation.
10 times more permeable than regular knit fabrics, It re­sembles a sandwich structure. The open structure of the inner layer allows perfect air circu­lation and it also helps to quickly remove moisture providing comfort when sitting and rest­ing.
The fol­lowing charac­teristics sum up why spacer fabrics are well suited for the prevention of mould:
Excellent air circulation in all directions; even under pressure
Well suited for padding
Ultra light
Highly ductile
Recyclable
Oke-Tex Standard 100 Certified
The Airlfow Layer is 1cm thick and can take up to 400 kgs without being compressed, thus keeping a 1cm passage of air for the underside of the mattress.
Certifications
Properties