€65.00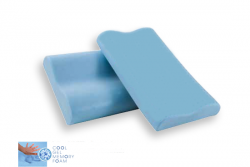 12cm Height - The Cool Gel Pillow stays cool to the touch as it contours to your body shape keeping you relaxed and at right temperature.The contoured design helps align your head, neck and shoulders for more relaxing and restful sleep.
Offering an Ergonomic shape developed by doctors to promote proper alignment and support, the contour pillow's cool gel foam enforces better air ciruclation.
Cool Gel foam is a blend between memory foam and gel bringing you the same great benefits of memory foam plus gel technology, keeping you and your bed cooler.
The Cool Gel Memory Foam Pillow as well as the Cool Mattress are designed with Cool Gel memory foam to allow air to circulate which leaves you feeling cooler. Our cool gel memory foam offers improved pressure relief and support, allowing superior weight distribution along with exceptional durability. The cool gel is infused with memory foam during production allowing the gel to be completely bonded to the foam, generating consistent gel coverage and a cooler sleep area.
Like all our other pillows, the Cool Gel Pillow provides multiple benefits in addition to the innovative cool gel memory foam technology.
The Pillow comes with a 100% organic cotton which has a zip making it easily removable and washable. Also hypo-allergenic.
Our Pillows come with a complimentary choice of 3 different pillow cases, Aloe Vera, Tencel or Organic Cotton.
Certifications
Properties